Amplitudo is now a verified member of the Pangea community
4 min read
On the 16th of August 2022, Amplitudo was successfully verified as a Pangea vendor! As a result, we have joined an elite community of the top 7% of software engineering vendors.
Since this industry is ever-changing and fast-growing, this will enable us to provide unparalleled transparency about our organization through our Pangea profile for current and future allies.
The path of joining Pangea - an elite vendor community
Here at Amplitudo, we constantly strive to provide the best services, high-quality solutions, and accurate information at any given time. Having gone through the independent verification process at Pangea, we can now do just that with our verified Pangea profile.
The verification process began with an organizational mapping in which we delved into various business-related topics that were a setting stone for our company.
Afterward, we measured teams' health by gaining insights from our team members and learning more about how our members perceive our company.
Furthermore, we documented vital internal processes that any prospective Amplitudo ally can access with a single click via our Pangea data room.
A thorough verification process revealed a lot about our company. We gained essential insights which helps us recognize our strengths and weaknesses.
Joining this elite community enabled us to collaborate on topics of great importance, so we can now continue working on improving our internal efficiency and alignment.

We are so proud to be a member of the elite community at Pangea.
Key findings
We are proud to say that our company's health score is 2% above the average - 8.9/10.0. Individual categories also showed excellent results - for management rapport, we got 9.0/10. and for feedback and recognition 9.0/10.0.
The values that gave great results were: culture 8.9/10.0, advocacy 8.7/10.0, well-being 9.0/10.0, satisfaction 8.7/10.0. As for personal growth and peer rapport, they both showed a result of 9.0/10.0.
We are thrilled that our employees are satisfied working at Amplitudo and being part of the team. However, there is always room for advancement and growth in many fields, and we are excited to see what will become of our true potential.
We value personal and professional development; thus, we strive to give opportunities to our employees and help them be the best version of themselves while carefully maintaining work and life balance.
"Amplitudo has recognized our trouble with endless documents, invoices, and reports. So, they created a perfect solution that we are very much satisfied with - HR software and a system for travel expenses processing. "- Jelena Đuranović, VP of HR, Addiko Bank.
Besides making our employees happy and satisfied, we also pay special attention to our clients. Having insight from our Pangea profile, we can see that this rating of 9.2/10.0 proves that our hard work and dedication have paid off.
We see clients not only as a job but as an opportunity to create a fantastic partnership and value in every project we do. Therefore, we constantly work on an even better approach and communication with the current ones and, with excitement, welcome new partnerships.
" We are so delighted that Amplitudo recognized our growth potential. As a startup, we are satisfied with their support of UI/UX design, and marketing strategies, which helped us at the very beginning." - Jasna Pejović, CEO of Flourish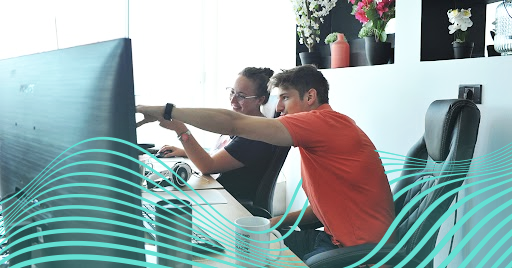 Teamwork is a core value in Amplitudo.
Constant advancement and improvement
Being a member of the elite Pangea community and being part of the top 7% of the world's software engineering vendors in Pangea inspires us to work even harder.
As a result, we plan to invest more in employee development, technology, and processes to provide our team and clients with the best version of ourselves.
Our progress will be documented on our verified Pangea profile which we hope will support our growth and success.
We will continue to fulfill our mission by contributing IT industry with our high-quality solutions, intelligent business approach with a spark of creativity in order to leave a mark in this ever-changing world.