This Title Was Not Generated By Artificial Intelligence
7 min read
…but the cover for the blog is ↑. AI-generated content is everywhere on the web. If you're a social media user, you could have seen photos of the arrested Trump, Pope Francis in an expensive white jacket, on a motorcycle, breakdancing, etc. these days. This is thanks to AI software such as Midjourney, DALLE, and Stable Diffusion. So, you just need to enter the "prompt" of what you want to see and the AI ​​generates the products of your thoughts that you have expressed in one simple or simply extended sentence. The works look brutal, and this is just the beginning. And yes, now everyone can "make" a work of art. The rise of AI has raised "that" question - Will AI replace designers? 🥁🥁🥁
Design process and creativity
About 10 years ago, we went around the city and recorded a survey. The question was "Do you know what design is?". Usually, people with weird hairstyles could give us an approximate satisfactory answer, and one I've heard and used is "Design is all we see". Many think that a designer is born and people think that they are not creative. There is a quote from Pablo Picasso:
"Every child is an artist, the problem is staying an artist when you grow up."
The decision to become a designer was uncertain. I asked myself questions like how do you make a living from something that doesn't make you physically tired - because I'm used to it being the only kind of work after which you can come home and say - I'm tired. What pushed me towards that decision was the foolishness I had since I was a child. I imitated people, Jay's dance moves, wrote funny stories, made figures (snakes) out of tree roots, etc. Later I saw that I was doing IT. The need for design to provoke guided me through the whole process, where when I think about a design, I must also imagine a person who observes it and has a reaction. Non-responsive design is boring.
To become a designer, you don't necessarily need a university education, you need passion, a sense of aesthetics, and a drop of madness and courage. It takes years of work to be able to create quality work and best convey a message visually. No matter how creative or experienced you are, the entire design process from idea to finalization takes time. Often all that time can seem wasted because we haven't successfully conveyed the message or we're not satisfied with the visual representation. Soon, we will be able to use shortcuts, to get from idea to product in 5 minutes, instead of a few days. It will come down to how well we can communicate with the AI ​​model.
Do I get credit when I create something through AI?
If you are a designer and you work in a company, you likely use stock sites every day for illustrations, photos, and other visual elements. It's hard to stay original and productive at the same time. Let's take it this way - if I want to illustrate a 2D car, a flat illustration, it will take me 60 minutes and I won't do it in a good way because illustration is not my primary activity. On stock sites, I will download in one minute more ready-made car illustrations that I can modify and save 55 minutes. Simple math, right? Yes. But this causes us to become lazy and try to find simpler shapes on those sites instead of exercising our technical and creative abilities. As I have no credit for illustrating this car from the example, I also have no credit for anything AI-generated. I can tell how I managed to communicate well with the AI ​​by writing a good prompt. To understand how the final product is arrived at, I asked Chat GPT how the AI ​​generates images:
"Some programs can learn what images look like by looking at lots of different images. Then, when given the task of creating a new image, they use the knowledge they have acquired to create it. They can do this using different techniques and methods. " - Chat GPT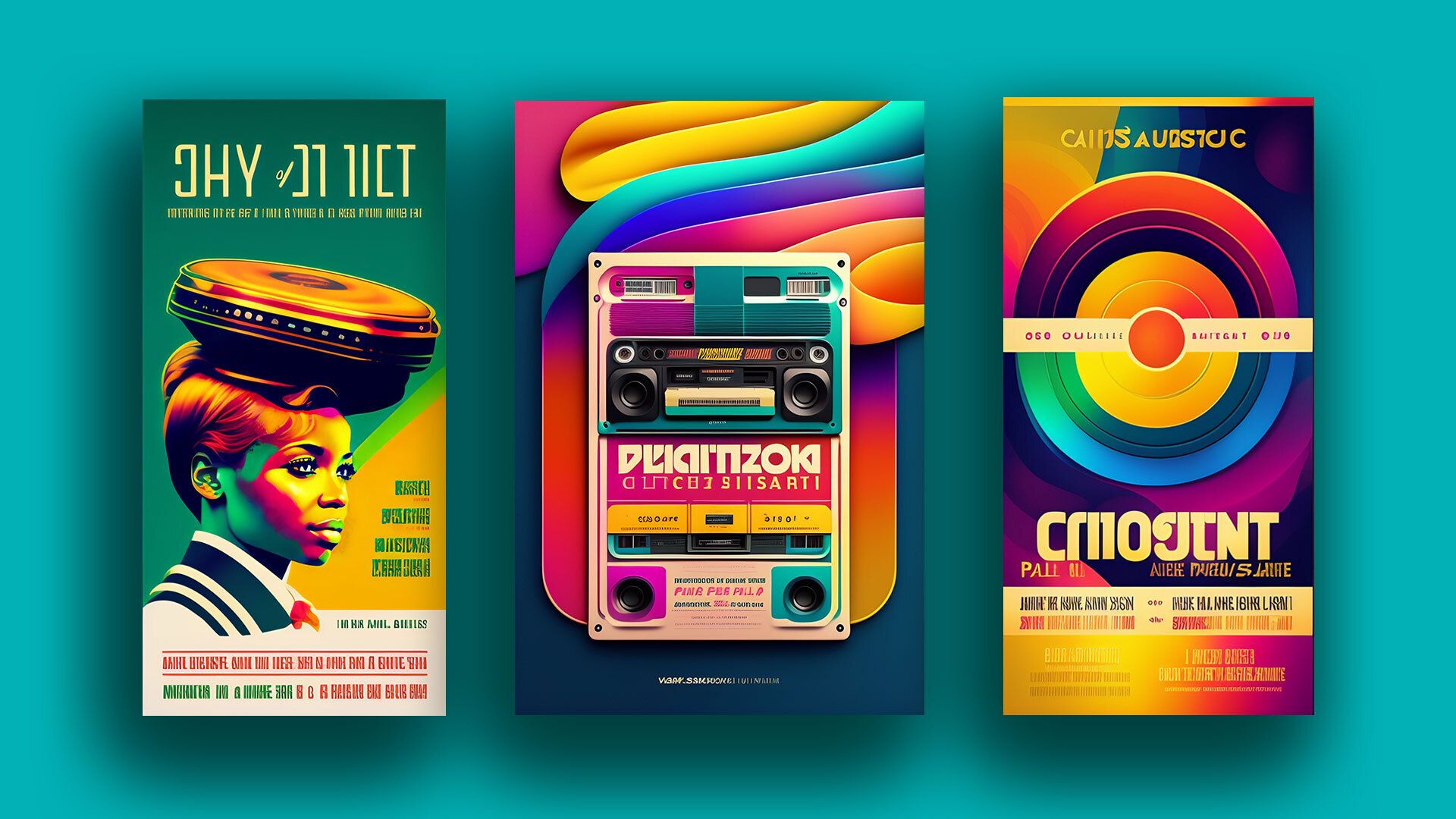 Therefore, if it were not for designers, illustrators, artists, and photographers who enriched the Internet with their creativity, AI would have no place to learn. In all this fuss, race, we ask ourselves:
Will AI take my job?
With the advent of AI, we have some new "colleagues" in the business, so-called influencers who need a bombastic title for a YouTube thumbnail or the first two seconds of a TikTok video. One of them says bye-bye to designers because he can create everything himself, much faster and for free. What it creates are generic visuals with no text and products that don't exist (it was ice cream), but it looks technically great. Anyone who has worked with clients in the creative industry knows that of all the senses, people are the most sensitive to the visual. Everyone has opinions and comments. If you paint an apartment, you will crush the painter with techniques and colors, even though he does it every day for 10 hours a day, if an interior designer decorates your apartment, you will knock out the whole plan for him in a few minutes, even though he has been doing it for years and has designed dozens of objects. It's the same with graphic and UX/UI design, only it's easier to make changes in these areas, the tools we work with have developed in that direction because the market demanded it. The advantage of AI is that it has patience, so it can do endless revisions. :D
Internally at Amplitudo. we have tested many AI tools, to follow the progress of technology or what to say "technical revolution", some of them are in beta stages, while some are on more advanced versions. I would single out Midjourney AI, because the results are terrifying and we could use those generated models in everyday design instead of the stock we use, only the difference here is that what Midjourney releases will be unique and there will be no replicas on the internet. The visual for the cover of this blog was generated using Stable Diffusion AI. The prompt read: "Maximalist fashionable male bald designer with goatee working on a computer. maximalist sci-fi aesthetic. stunning maximalist interior shot of a starship cabin with lots of gadgets and controls, maximalist aesthetic." (thanks to colleague Stevan)
**Let's face it, companies won't pay designers and illustrators if AI can make something, faster and better. ** Illustrations are or will become less valuable because people have seen how easy it is to create them through AI.
Goldman Sacks forecasts that 300 million jobs in Europe and the US will be lost or degraded by AI if it continues at this pace. (Source: Forbes) It also mentions the category "Art, design, entertainment, sports and media" with a percentage of 26%, which means that every fourth - fifth designer will be out of a job. That percentage is much higher in the fields of Law and Administration and amounts to 44 and 46 percent, respectively. Even fellow programmers are not safe with 29%.
I firmly believe that AI is here to help us, not to replace us (everything). Imagine what kind of diagnoses a doctor can give with the help of AI trained on millions of X-rays and medical histories? When the calculator appeared, people thought - it would make us dumb, not use our brains, etc. We just got more time to solve some other problems. If we didn't have a calculator, and if it didn't reduce the time needed for calculations, today we wouldn't have some other things that we can't live without.
I would like to end with a sentence I found on the net:
AI Will Not Replace You, People Using AI Will